ARKTOS Products have been certified in Ukraine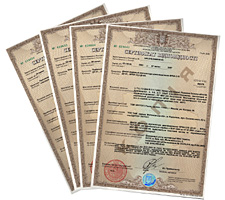 The State Committee on Technical Regulations and Consumer Policy of Ukraine has certified fire safety equipment by a leading Russian manufacturer, ARKTOS Company. Ukrainian Certificate was granted for OKS-1 Fire Damper (with fire-endurance 2 hours at 600°C), DKS Smoke-extraction Damper (with fire-endurance 1,5 hours at 600°C), VRS Series Smoke-extraction Radial Fans (with fire-endurance 2 hours at 600°C) and VRKA Series Smoke-extraction Roof Radial Fans (with fire-endurance 2 hours at 600°C).
The Ukrainian experts' appreciation acknowledged ARKTOS products conformity with European standards and the high quality of the Russian manufacturer's products.
New Air Curtains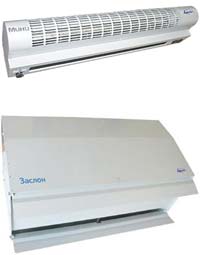 An air curtain installation is the most ordinary way to save energy, but, taking into account a heavy deficit of space in small rooms, it is sometimes impossible. This problem can easily be solved by MINI air curtains, ARKTOS has started to produce recently.
"Diminitive" dimensions of MINI permit it to be effective operating at 2 meters height and reducing heat loss for 70-80%. Built-in fan speed and heating capacity switches make it possible to select necessary operation mode, and integrated thermostat is provided for keeping the preset temperature. In summer period when running in "no-heating" mode, MINI air curtain prevent excessive outdoor heat penetration into air-conditioned rooms and protect them from exhaust gases, insects and dust. Owing to its up-to-date design, this air curtain will blend with any kind of interior, whether it is industrial, administrative or living room.

ZASLON ("Screen") air curtains have become another innovation of ARKTOS. These air curtains are capable to be installed both horizontally and vertically in rooms having up to 6 meters height and width. The airflow makes effective protection even at fully wide open doors or gates. The effect will be even stronger when you use adjustable louvers, which permit to change air stream direction. The air curtains can optionally be supplied with remote control units to change airflow. One control unit is capable to control several air curtains.

CLASSIC Series of air curtains has been extended with CLASSIC B unit using water heater as a source of heating, which can find the most effective application in the rooms with insufficient quantity of alloted electric energy, when the main load is upon central and local heating.

All ARKTOS air curtains are being manufactured in conformity with Quality Management ISO 9001: 2000 and meet all Russian regulations and European standards.
KREPYSH ("Sturdy") and GOLFSTREAM Ensure Warmth and Comfort

ARKTOS Company keeps on expanding heating equipment range. In addition to the well-known TEV Series fan heaters, the factory has launched a serial production of KREPYSH fan heaters and GOLFSTREAM water coil fan heaters.

KREPYSH is equipped with ceramic heating elements of 2 kW or 4 kW power and has compact dimensions, which make it indispensable in dacha and home conditions, useful for quick heating of garage or workshop, warehouse or stores, in humid or wet rooms. Their field application does not require special environment or wirings but just a regular electric power supply.

GOLFSTREAM water coil fan heaters will bring warm air into the rooms with insufficient quantity of alloted electric energy, when the main load is upon central and local heating. GOLFSTREAM allows significant cost saving of energy necessary for the room heating. The fans can be mounted in both vertical and horizontal position, and special bracket makes it possible to install the unit at a needed angle. The fan heater is designed to adjust air stream by using a built-in rotating grille; optionally, the unit is available with a grille with vertical blades to adjust the air stream directions in horizontal plane.

Low noise level of KREPYSH and GOLFSTREAM fan heaters provides a comfortable performance and meets all Russian regulations and European standards.
NEW SMOKE-EXTRACTION FANS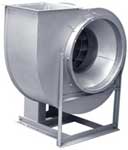 Within the program of further expansion of smoke-extraction fan range, ARKTOS Company have developed the new series of radial fans VRS.
The fans are intended for fire safety ventilation systems of industrial, public, administrative and living buildings, except of A and B categories of NPB 105-95 Fire Safety Regulations. VRS fans have passed tests in Fire Safety Research Institute (VNIIPO) and were granted with Fire Safety Certificate. Their fire endurance is not less than 2 hours at 400°C and not less than 2 hours 600°C.
VRS fans are equipped with standard asynchronous motor with short-circuited rotor and backward-curved impeller. The impeller diameters are available from 315 mm to 1250 mm and motor powers from 1,5 kW to 30 kW. The fan body, impeller and the frame of VRS fans are made of carbon steel with special heatproof organosilicon plating.
The fan efficiency at high temperature of media is achieved owing to a special configuration permitting to minimize heat transfer to the motor shaft.
The new series of radial fans VRS in combination with VRKA-series roof smoke-extraction fans will allow you to be flexible to design smoke-extraction systems considering specific features of your projects.
NEW AIR DISTRIBUTION PANEL 1VPT/1VPTR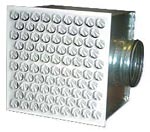 ARKTOS developed a new panel grille for swirling supply air jets. Turbulizing 1VPT/1VPTR air distribution panels consist of numerous air-spray cells positioned in one flat surface, and a static pressure chamber.
The panels are manufactured with either side or end inlet. Airflow can be regulated by a control device additionally installed in a static pressure chamber nipple of 1VPTR.
The panel design also permit to regulate direction and aerodynamic features of supply air by turning the plastic cells, without changing the air volume, pressure drop or noise level. Independent turning of the cells within the flat surface of the panel allows getting a big variety of supply air flows, from single-sided to radial horizontally and swirled vertically.
The panels are intended for ceiling and wall installation. In case of suspended ceiling installation, just the panel itself with the cells is visible, and the static pressure chamber is hidden behind the ceiling.
The front panel is powder-coating painted white (RAL 9016) and has become an attractive compliment to the factory's grilles and diffusers range.
Here you can find a Technical Description for VPT air distribution panel.